LEARNING EXPERIENCE: NJDOC Assembles Multi-Agency Roster of Speakers for Training Conference
By John Cokos, New Jersey Department of Corrections
Published: 04/08/2019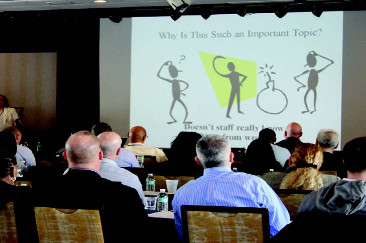 The mission of the New Jersey Department of Corrections is to protect the public by operating safe, secure and humane facilities.

The Department is better preparing its employees to support that mission by hosting a newly designed annual training conference.

Top management from the NJDOC as well as an eclectic lineup of guest speakers representing healthcare, higher education and various other law enforcement agencies in New Jersey and beyond gathered in Atlantic City for the first NJDOC Conference and Training Event.

The curriculum for the event, which was held Feb. 19-21, was crafted to deliver a comprehensive and in-depth examination of a variety of complex topics.

Although the NJDOC hosted various gatherings in the past, the most recent one is the first of its kind for the Department.

"The Conference and Training Event hosted by the New Jersey Department of Corrections was unlike any of the previous retreats because it focused on topics and issues that are relevant specifically to correctional leaders," said NJDOC Acting Commissioner Marcus O. Hicks, Esq. "The correctional setting is so unique, and we cannot assume that a 'one-size-fits-all' training will suit the needs of our staff."

Speakers explored issues such as gender responsiveness in women's prisons, suicide prevention and correctional leadership. The presentations also helped to reinforce the effectiveness of new initiatives taking place within the Department such as the peer navigator program, Medication Assisted Treatment (MAT) and employee wellness.

"When selecting the presenters, we were careful to choose instructors who have an extensive background in corrections or law enforcement," Hicks said. "For example, the staff wellness piece was taught by the former Commissioner of the Connecticut Department of Corrections; therefore, it encompassed not just overall staff wellness, but staff wellness specific to the correctional professional."

Director of Mental Health and Addictions Dr. Herbert Kaldany led discussions on opioid addiction and moderated a panel discussion on MAT, which underscored other presentations given on substance use disorder and behavioral health. The panel included the Commissioner of the New Jersey Department of Health, Dr. Shereef Elnahal, as well as prominent members of the New Jersey Psychiatric Association and the Cooper Medical School of Rowan University. Other presentations featured members of the NJDOC custody staff, who discussed gender responsiveness, and Rutgers University staff specializing in criminal justice and correctional healthcare, who led discussions on mental health and women's roles in corrections.

Senior members of the New Jersey Office of Homeland Security and Preparedness closed the conference with discussions on terrorism awareness and active shooter response.

Further setting this training apart from others the NJDOC has hosted in the past was the attendees.

"We extended invitations to county jail staff, halfway house personnel and other state agencies that we work in conjunction with on some of these topics, so as to provide them with the information and knowledge, as well," Hicks said.

As a result of that diverse audience and lineup of speakers, a great deal of information was received and circulated.

Participants also benefitted from opportunities to network, not only among NJDOC employees, but also with professionals from other agencies.

"The conference provided a venue and an opportunity for all of us to gather, share stories, problems, insights and ideas," said NJDOC Director of Operations Alfred Kandell. "The curriculum that was offered was interesting and beneficial. Additionally, being able to meet and talk with the people that we generally only speak to over the phone or occasionally is also invaluable. It helped us to cement relationships and facilitate our ability to work through correctional issues that always seem to arise."

Added Garden State Youth Correctional Facility Administrator Tracey Shimonis-Kamiski; "The training addressed many of the trending topics that are at the forefront of what we do every day. It provided a platform for us to deepen our understanding of contemporary issues in corrections."

John Cokos, a former Navy Mass Communication Specialist, began working for the New Jersey Department of Corrections' Office of Public Information in May 2018.
---